It is part of the entertainment every night in most of the hotels in one form or another, and on many of the excursions also. If you can organise it the drumming and dancing display on the evening excursion to Makasutu is really quite something. Rest assured musical memories will be a large part of what you take away from your time in The Gambia

THE KORA
The Mandinka kora is a unique instrument with a harp-like appearance and a notched bridge similar to that of a lute or guitar. It sounds somewhat like a harp, but its intricate playing style can be closer to flamenco guitar.
The first known reference to the kora comes from Mungo Park in his 1799 book, Travels in Interior Districts of Africa. He describes it as "a large harp with 18 strings."
The kora's body is made from a calabash gourd cut in half and partially covered with cow skin. Traditionally, there are twenty-one playing strings plucked by the thumb and forefinger of each hand. The remaining fingers grip the two vertical hand posts. For strings, players use fishing line which provides a brilliant tone and is easily obtained at the local market. Twenty-one anchor strings attach the playing strings to an iron ring bored through the base of the kora's hardwood neck. The player tunes the kora by moving the leather rings to achieve the appropriate tension on each string. Kora players use a variety of tunings.
The Gambia has more kora players than Mali, Guinea and Senegal. In these countries they sometimes use the French spelling cora



Alagi Mbye
Griot, kora player and educator of Gambia
Profile and photos: Ritva Lundberg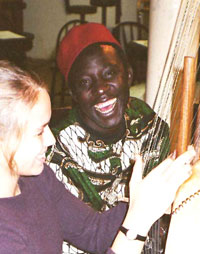 Djembé Rhythms
Alagi Mbye (also spelled M'Bye) was probably born in Jan 1965, but you can never be sure. (He says his mother didn't have a calendar.) He comes from a griot (jali) family and his father, grandfather and uncles were well known praise singers, history reciters and kora players, many generations back. Alagi was sent to study kora with great Gambian masters at very early age, including the legendary Jali Nyama Suso.
In the late 1980s some Norwegian musicians came to Gambia and asked Jali Nyama which kora player he would recommend to come and play in Norway, and he named Alagi Mbye as one of the most talented young players. Alagi made his first of many trips to Scandinavia.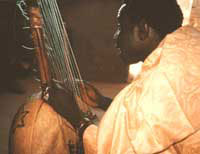 On his return, he started working as a kora teacher in The Eo'len Centre of West African Arts in The Gambia, which had many Scandinavian music students. (Unfortunately this centre is not active any more.)
At Eo'len, Alagi met many Scandinavian enthusiasts who invited him to return to Norway and Sweden, where he has performed once or twice a year since 1990. He played with Knut Reiersrud and was a guest on Reiersrud's CD's Tramp. In Sweden Mats Edén and Groupa were his first contacts and he played and performed concerts with the group in the early 90's. Swedish musician Ale Möller was fascinated by Alagi's abilities and his 'totalness' in music and invited him to be a member of the Stockholm Folk Big Band project 1998-99. The Big Band was composed of 14 musicians representing 11 countries all over the world. Alagi was the only one not resident in Sweden.
Alagi's greatest concern is the future of Gambian traditional music. Many places now have no griot heritage to care for the continuity of the tradition. The radio and TV don't expose the traditional music in Gambia, and the newspapers only report on pop, rap, reggae and hip hop stars.
1999-2000 he got the opportunity to make a solo album in Sweden, a recording of pure kora and songs in the tradition. Yiriba means The Big Tree, and symbolizes the roots, stem, branches and leaves of the West African griot heritage. All songs are in the Mandinka language.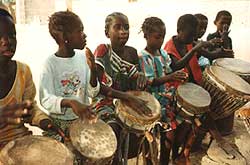 His Swedish friends have helped him to realize his longtime dream of a music school for Gambian children, part of Alagi's efforts to preserve the tradition of his homeland. Even non-griot children are welcomed to study there. Alagi is a member of the International Society of Music Education (ISME) and has taken part in their conferences in Pretoria and Amsterdam.


To drum on a djembé is more then learning a technique for bringing a skin in sound and motion. More then only a hard practise in playing the rhythms. It's a way of selfexpression.
The workshop African djembé is pointing on this expressive element. Also there shall be learned that drumming on a djembé is meaning to communicate with your fellow musicians. At this manner their shall be recognised a rhythmic togetherness in where the player will be a part of the joyfull effects that african music will bring to that concious level.
Pleisure en playing together are therefore the most important issues in a methode that we use to guide you towards a happy djembéplayer want.
Unexpected possibilities shall be activated and improvisation of the players to play with their own feelings are comming from within themself as it was always there. The djembé is become an instrument to express the action in themself; its their own reaction towards the social environment inwhere he or she is.
A workshop of one or two hours to enjoy enormously from the djembébeats; to get the feeling you where one with african music and that to experience with all your fellow players. That is the goal we want to reach at groupos of children as well as in groups of adults; by jamming and swinging in a session at the end of the workshop.






















In groups from 10 up to 100 people we present the traditional african djembérhythms and -singing to the players. A togetherness that will fill a enormous sphere with pleisure.

A djembé-workshop shall be a happy occassion in where every person shall enjoy him- or herself and afterwards shall recognise that it opens the fine feelings of themselve.

Succes is a garantee and your question is our challenge !





AFRICAN DANCE


Belong dancing, singing and rythmic slapping to daily living an African. Each ritual and each festival has linked its own music and with that dancing. The dancing are an interaction between the drummer and the dancer. It is thus not strange that three main Gambian dance has been called to the accompanying instruments:

Bugarabu
This dancing has been based on the music of the Djola, a population in Foni-gebied and gambia, the Casamance in Senegal and the north of guinee-Bissau

Sabar
This dancing ends up initially Senegal and gambia.

Djembe
The origin of this dancing lies in guinee and Mali at Malinke-stam.


Lessons of Lamin Touray
Many West Africans in the Netherlands to learn us a dancing which comes from their tribe. Lamin chose however to combine several dancing and something eigens to create. From 3 movements make themselves you own path. That is its speciality. The dancing lessons its pure energy, you experience the freedom of the movements. Lamin's manner of to teach works contagiously, stimulates solidarity and ensures above everything a good environment. The lessons are very suitable for beginners and gevorderden, for adults and children as from 10 years


DANCEHALL MASTERS




During the 1999 first Gambian Rap Awards, Dance Hall Masters were voted as the Best New Group. The trio who came together in November 1998 with the motive of enlightening young as well as old on issues worth knowing about are Brother Coms Daddy Sam and Mister P. The groups vocalists Brother Coms (Lamin Fatty) and Daddy Sam (Mam Balla Joof) were recognised solo singers before teaming up, at the request and encouragement of Pa Jallow of Studio Galan. They were later joined by dancer Mister P.
Their latest album "Brother Man", released in October 1999 is appealing to the youths not to despair; that life can be hard or easy; that in life all doors could be closed to develop one's abilities to the fullest. Life could as well be of ups and downs, but with persistent struggle and determination, one will one day reap the fruits of one's labour.
When they started their singing career, their families were not supportive. Like some, they felt music is associated to drugs. "But we are determined not to be seen in that light." They assured.
Their parent's support is not the only problem they are facing. One of their most pressing problem is the problems of sponsorhip. They don't have anyone to assis them financially.

African star on Live 8 bill



Youssou Ndure
Youssou Ndure's official website. Though he is not Gambian and is now an international superstar he loves to perform in Gambia as he says that the Senegalese & Gambians are in deed one and the same people.

London - Senegalese superstar Youssou N'Dour was named on Tuesday among the acts lining up for a free Edinburgh concert timed to push Group of Eight leaders to act on poverty in Africa.

This comes after criticism that few black artists were appearing in Bob Geldof's Live 8 gigs.
Rocker-turned-activist Geldof was blasted for having scarcely any black or African acts in his multi-city concerts aimed at pressurising G8 leaders at their summit in Gleneagles, Scotland, on July 6-8.

The line-up for the July 6 gig at Murrayfield in the Scottish capital was revealed by Midge Ure, Geldof's Live 8 collaborator.

Also on the bill in Edinburgh are Travis, Dido, Texas, Damon Albarn, Wet Wet Wet, Annie Lennox, Embrace, McFly and The Zutons for the concert at the home of Scottish rugby union.

The 60 000-ticket concert ties in with a series of star-studded Live 8 gigs masterminded by Geldof and Scotsman Ure, the pair behind the seminal 1985 Live Aid charity concert.

The July 2 free gigs are set to take place in London, Paris, Rome, Berlin and Philadephia in the United States.
Geldof has urged activists to flock to the Scottish capital on July 6, sparking fears the city would be over-run with demonstrators.

But Ure sought to allay worries of as many as one million people descending on Edinburgh, a city with a population half that number.

"I don't think a million people will come to Edinburgh. We've no idea how many will come," he said.
"I said last week, 'Edinburgh, open your hearts, open your homes' - yes to people you know, of course, not to axe murderers - so that will happen, I hope."